The Good News
Our Monthly Newsletter

This is How We Love God and God's People!
May 2022
From the Rector's Study
Beloved, 
How would you and your family grow together with your faith community? How would you like your faith community to grow with you? Unfortunately, thinking about a faith community is often limited to Sunday worship. We gather about an hour weekly, going our way with our busy schedules. We wind up only seeing the church as a place of refuge from all the clutter of our lives. Hopefully, in the absence of madness, we try to recharge our tired souls so that we may carry on the rest of the week. Surrounding ourselves with nature, beautiful mountains, oceans, and a clear sunny sky or rainbow seems all we need to refill our unmet spiritual desires. Now, I get it. We all need to isolate ourselves and sometimes take a deep breath. But do you know the problem with finding Peace through isolation from chaos? Isolation eliminates disturbance. It generates hostility to keep our idolized self-righteousness in our air-tight spiritual Tupperware. It cherrypicks our likes out of dislikes to sugarcoat our judgmental minds, calling it self-care.
Jesus calls us to Peace in a different way. I have a refrigerator magnet that says, "Peace does not mean to be in a place where there is no noise, trouble, or hard work. It means to be in the midst of those things and still be calm in your heart."  Just like this saying, time and time again, Jesus demonstrated this very thing to his disciples. When the disciples were stressed about not having enough food to feed the crowd, he reminded them that it would work out. Even after the death of Jesus, when the disciples hid behind the locked door in the attic out of fear, Christ showed up and told them not to be afraid. Jesus showed up to Mary, telling her not to weep. He appeared as a stranger to disciples on the road to Emmaus and as a strange fisherman to his disciples when they were stressed out about not catching any fish. He continues to show up even today when two or three gather together in His Name. If you attend church regularly, you know what happens that sometimes when two or three gather together–CHAOS!
CS Lewis once said, "I didn't go to religion to make me happy. I always knew a bottle of Port would do that. If you want religion to make you feel comfortable, I certainly don't recommend Christianity."  Lewis is right. The faithful Christian disciples must see beyond feeling good and being fed. It's a day-to-day discipline to find Christ right amid a pit of chaos. We become the Body of Christ by repeated acts of love, forgiveness, compassion, and hope. Growing together with your Christian faith community is how we train ourselves to be that symbol of God's compassionate love in our troubled world. When did you last volunteer to work with your fellow Christian brothers and sisters to serve the needs of others selflessly? Remember, we might be the only Gospel–The Good News that people experience in their day or lifetime.  
Here we are at St. Paul's. I am truly grateful and honored to share the news that an anonymous family recently generously offered to provide the means to create a sacred spiritual path in the backyard. The picture on the front page illustrates how the course will be constructed soon. We already have a gorgeous labyrinth that the community loves; a beautifully kept memorial garden where many of our legacies peacefully rest, a prayer bench of hope, and the belltower on our campus reminding us of precious borrowed time. This soon-to-be-installed sacred spiritual path will take us to the wooded area, a side of busy Taylorsville Road, a residential area, and the parking lot in our backyard. This spiritual journey in nature, city, life and travel on this path will become another reminder of Christ's presence in our midst. I hope you will share my excitement about this development, bringing so much more potential to our ministry. The creation of the path will include memorial benches and new trees. It also helps us be more mindful of the backyard we often forget we have. What kind of ministry do you think would be possible with this new development in the future? The sky is our limit. St. Paul continues to spring forward. We have grown our faith community by loving God and neighbor since 1834, like this selfless act of generosity. Our faith community continues to grow as we gather to be the Body of Christ and love our neighbor.
With Gratitude, 
Fr. Andrew
"Rejoice always, pray without ceasing, give thanks in all circumstances; for this is the will of God in Christ Jesus for you." (1 Thessalonians 5:16-18, NRSV)
There are many things we do well at St. Paul's.  Rejoicing in our fellowship with each other is one of them.  We rejoice diversity as a gift and not a hindrance. It begins the moment you walk through that bare wooden front door, which tells us to come as you are.  As we all are on many walks of life, we cherish the love of God in each other. We may not have everything, but together we have them all!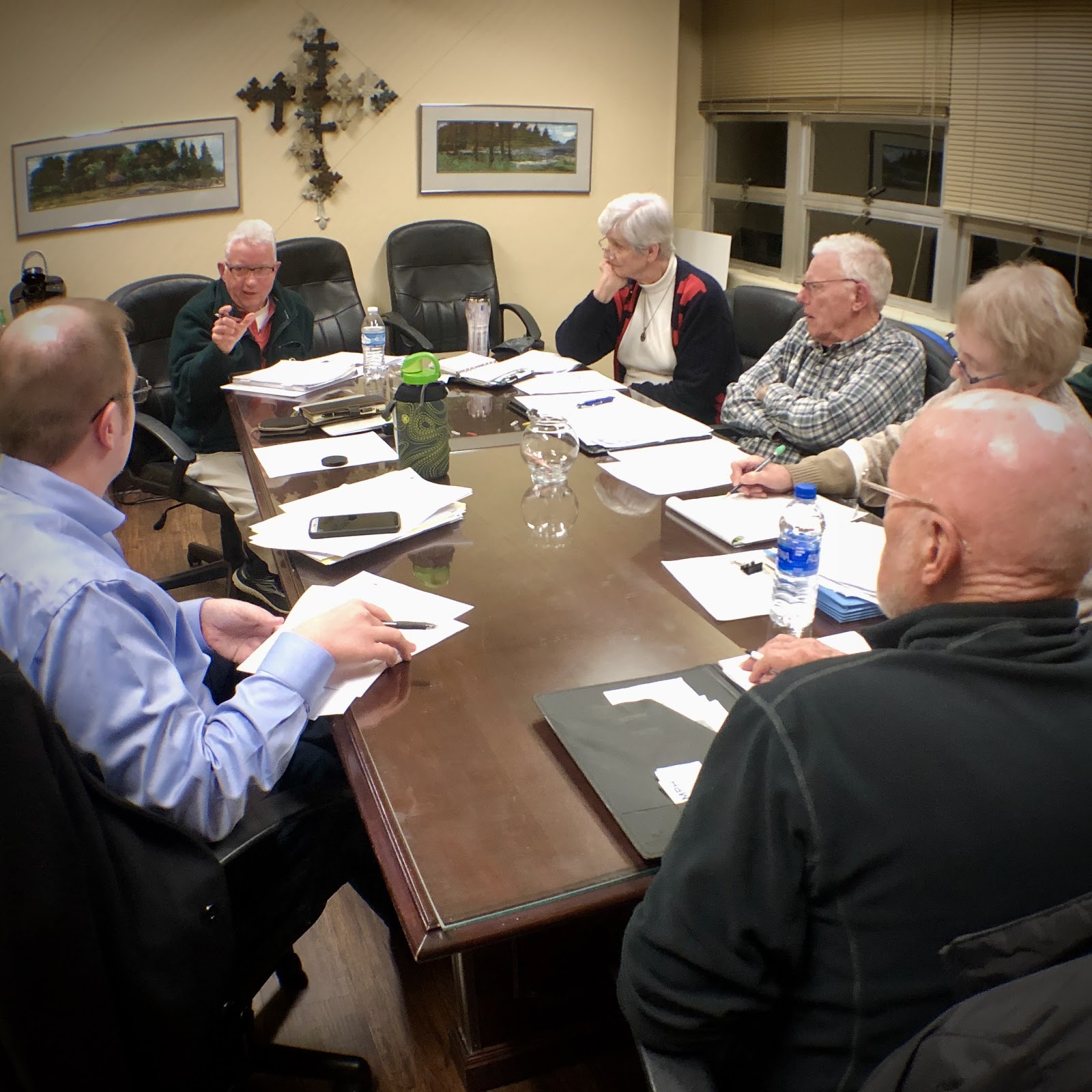 Stewardship
Stewardship at St. Paul's includes many facets including contributing one's time, talent, and treasure.  The finance committee provides support and guidance to the Vestry, clergy and staff as it relates to financial matters.  The committee also oversees St. Paul's internal controls, which insures that the funds collected and disbursed are handled properly in accordance with sound business practices.  This allows St. Paul's to use its resources to carry out its mission throughout the community.